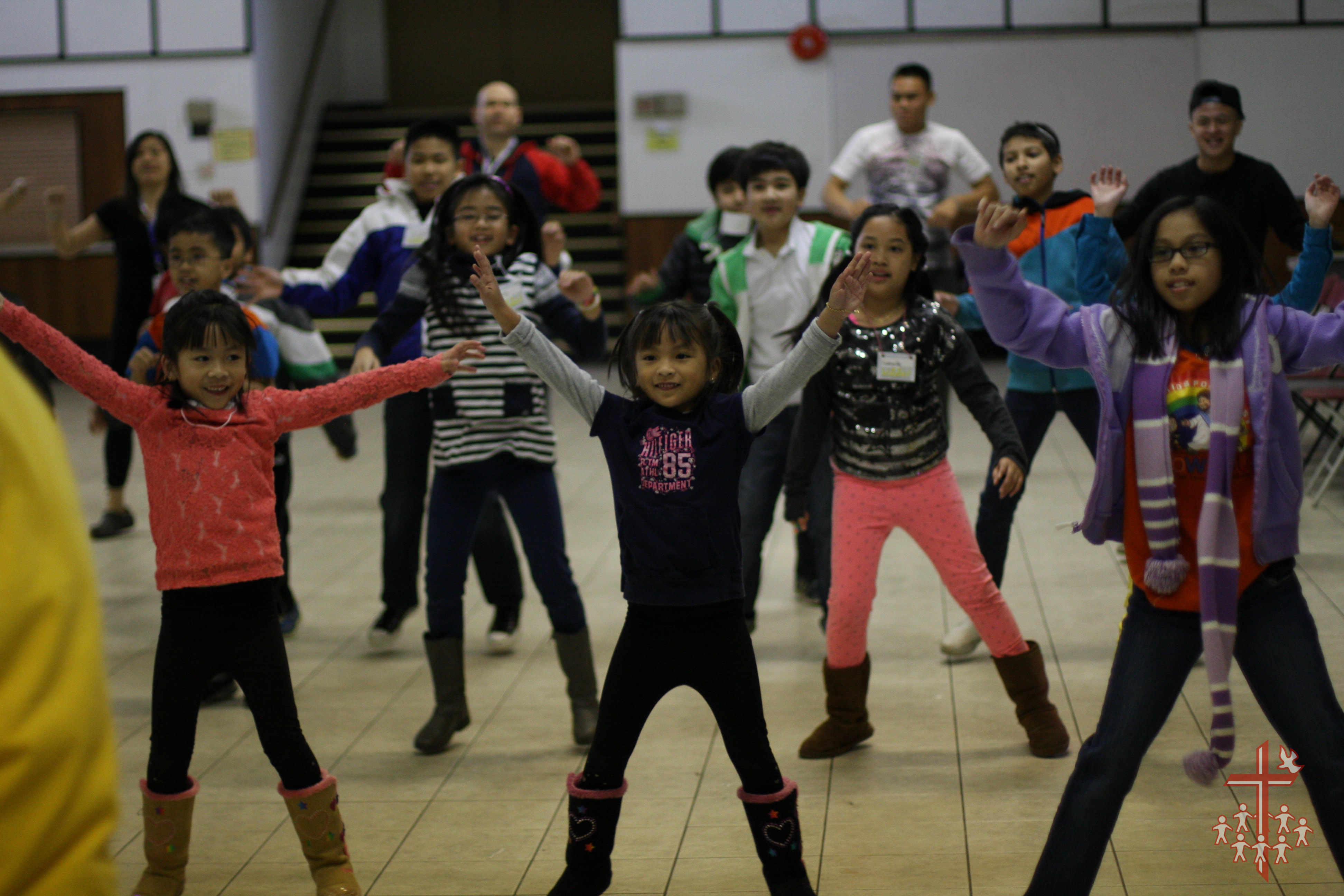 Children celebrating the Spirit of Lord in their lives. (Photo: Natalie Abad)
When Jesus saw this, he was indignant. He said to them, "Let the little children come to me, and do not hinder them, for the kingdom of God belongs to such as these." Mark 10:14
On a cloudy Saturday morning, I arrived at Our Lady of Good Counsel's auditorium at 9:30 am. Anticipating for the long day ahead of me, I was filled with elated nerves as I had been waiting for this day for months! I was nervous because I didn't know if there would even be enough kids to facilitate while, simultaneously, I was filled with extreme joy and excitement for what He had in store for me that day.  That chilly Saturday morning marked Surrey 1's first Kids Day, our first major CFC-Kids for Christ (KFC) event in over two years.
A Kids Day event shares the same components of a CFC-Youth camp such as sessions called "God made me special because He loves me", "Jesus is my bestfriend", and "Jesus wants me to make others happy". The only difference is that CFC-KFC events are filled with non-stop action. From games being played after every activity, to matching choreography for our songs, to the hands on activity for every session, each moment had elements of friendship, fellowship, freedom and faith. Our Kids Day Leaders, Michael Delleva and Gillian Cortes had decided to name the event Heaven Academy with the theme of "Let it Shine"–throughout the day it was evidently clear how much God was shining through every single participant and ROCK (Reaching out Christ to Kids) volunteer.
As a servant for the event, I was constantly running around living the life of a servant, which is busy and hectic. So when I had a chance to pause and take a look around me after my session, "God made me special because He loves me", I was taken aback. After teaching them that God loves us so much because He had made us all special, through our differences and our unique abilities, I was mesmerized by seeing Christ illuminate through our ROCK team. The love that each and every ROCK facilitator had shone, either through their patient and gentle actions, or their ability to play and horse around truly had made my heart leap for joy.
As it is written in Mathew 5:14-16:
You are the light of the world. A city set on a hill cannot be hidden. Nor do people light a lamp and put it under a basket, but on a stand, and it gives light to all in the house. In the same way, let your light shine before others, so that they may see your good works and give glory to your Father who is in heaven."
It is so beautiful and so remarkable that our God has made us into distinct individuals, with our own special attributes to shine and show His love to the world. Truly we cannot hide His love from the world, for it is so mighty and powerful – from giving a helping hand to those in need, to a smile given by a child.
Catherine Sim, CFC-Youth Pacific Region
http://cfcyouth.ca/wp-content/uploads/2014/02/IMG_9636.jpg
2592
3888
CFC-Youth Canada
http://cfcyouth.ca/wp-content/uploads/2017/10/YFC_WebsiteLogoV1-1030x433.png
CFC-Youth Canada
2014-02-19 15:00:39
2015-09-08 05:22:16
CFC-KFC Vancouver: Let It Shine