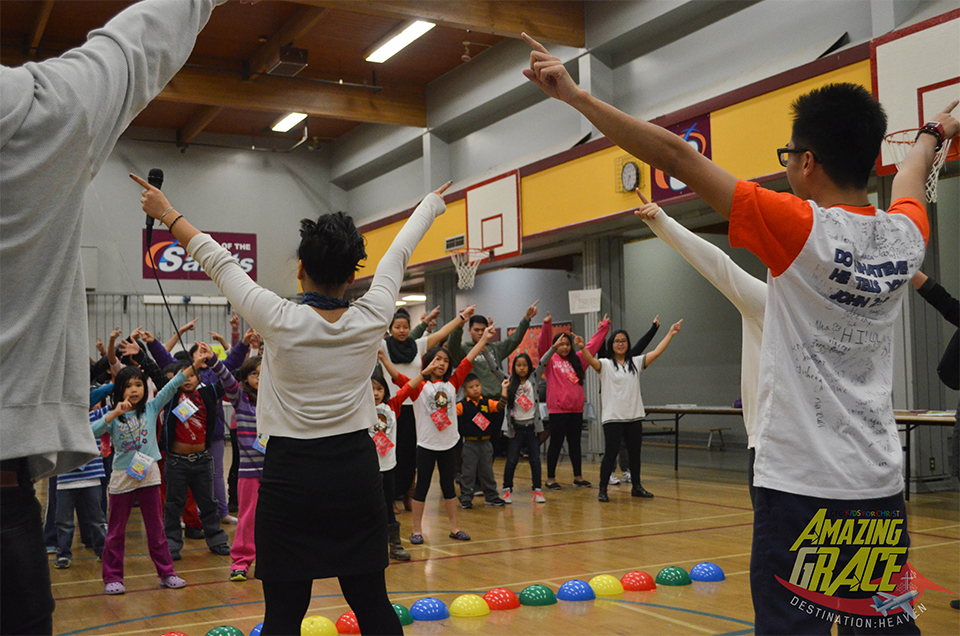 Kris Aquino (left), Martin Pagcaliwagan, and the rest of the CFC-Youth animators teach CFC-Kids for Christ members some dance moves at the 2013 Kids Night at St. Mary's Parish, Vancouver on November 23, 2013. (Photo: John Ray Catingub)
Growing up Catholic and in the Couples for Christ community, I had never witnessed something so beautiful as my first time serving in the community. I will forever praise God for this blessing. I have been working with children for a long time and not once had it crossed my mind that they too are our brothers and sisters in Christ. This event had opened my eyes to a new perspective where I can see how genuine and selfless God's love is.
In this event, I was asked to be at one of the pit stops for the Amazing Grace challenge. The challenge included activities that had enabled them to know the other children in their group, while having fun. The pit stop I had been assigned to was  for public speaking where I had a partner who was also from my chapter, Richmond. During our activity we asked children from each group to say their name and share their favourite prayer. To make it interesting, we had asked the children to share their names and favourite prayers to make them more attentive to each other's responses.
After the game was done, we asked the group if anyone would like to lead us all into prayer. In all honesty, I did not know what to expect. I find that sometimes in CFC-Youth, when a brother is chosen, only then do they lead prayer, or there is a long pause before someone volunteers to lead prayer. But with the children, there was none of this–they raced to volunteer! The children were willing to lead and excited to lead. Perhaps, they do not truly comprehend the prayers but they are able to just listen and when they are called, they immediately answer.
As I reflected upon this moment, I remembered stories that I have heard from youth in my parish. Most share that, as we get older, we find praying hard to do because of many reasons. We find that our "responsibilities" and "priorities" change so much that we forget what is actually most meaningful to us. I too will admit to this. I find it hard because I claim that I do not have the time, but really it's because I forget to strive to pray with a whole heart. As we get older, we gradually forget the value, purpose and importance of prayer. These children reminded me of how sacred prayer is. Being able to witness how joyful and enthusiastic they were to pray, to talk to our Lord Jesus Christ is a sight of beauty that I have never seen. I hope to see and witness more of this; I pray that this not only be for the children but for every generation.
Today, as I continue working with children, I am reminded that each child has something new or different to offer us. They are here to teach us and show us God's love never ends through their words and actions, as I have witnessed this through prayer.
Kris Aquino, CFC-Youth Pacific Region
http://cfcyouth.ca/wp-content/uploads/2013/12/Kids-Night-2013.jpg
636
960
John Ray Catingub
http://cfcyouth.ca/wp-content/uploads/2017/10/YFC_WebsiteLogoV1-1030x433.png
John Ray Catingub
2013-12-07 01:32:47
2015-09-08 05:22:17
CFC-KFC Vancouver: Serving My Little Brothers and Sisters