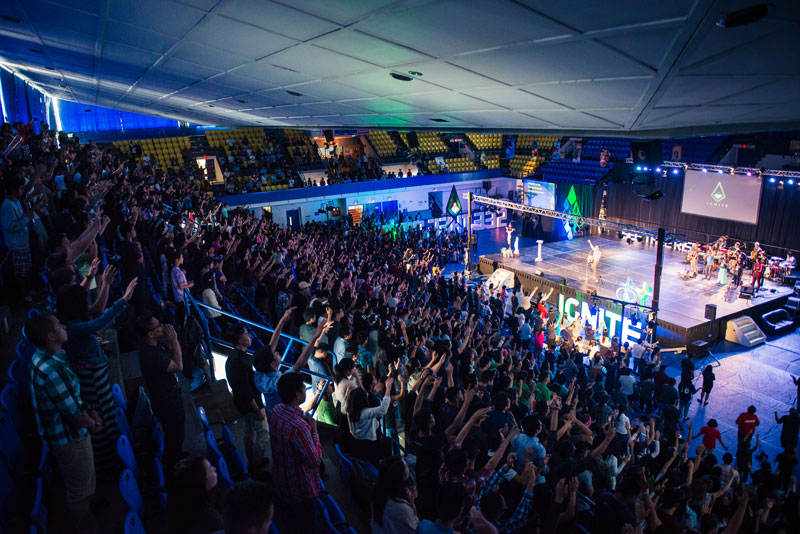 After nearly a year of anticipation, 1300 members of both CFC-Youth and CFC Singles for Christ (SFC) came together at the annual True North Conference to commemorate twenty years as established parts of the Couples for Christ Family Ministries in Canada. Hearkening to both ministries' beginnings, the three-day conference, running from July 18-20, 2014 was hosted at the University of British Columbia (UBC) in Vancouver, where both ministries humbly took root in 1994 with the help of missionaries from the Philippines.
"IGNITE: See Thee Rise", the conference's theme, calls us to active Catholic mission and evangelisation and asks us to reflect on Christ's presence in our lives. Calling to mind the commissioning of Catholics as in the Sacrament of Confirmation and the fire of the Holy Spirit, we are ignited and lit by the Spirit to act for Christ on earth. Furthermore, referencing a line from Canada's national anthem, it points us to Christ's rising in our lives, however that may be, and the resulting expressions of joy and hope having seen Him.
 "With glowing hearts we see Thee rise,

The True North strong and free!"

– from "O Canada", Canada's national anthem
While the conference pointed thematically to action and recollection, it pastorally highlighted five major points in its competitions, talks, workshops, and Masses: celebrating God's faithfulness in the Family Ministries, emphasising continuity rather than nostalgia, highlighting the bonds and transition between CFC-Youth and SFC, echoing messages of International Conferences (ICONs) held in the Philippines, and putting mission and missionary work at the forefront.
Beginning on Friday afternoon and ending late on Sunday morning, the gathered CFC-Youth and SFC members took part in a program that utilised the creativity of youthful, dynamic Catholicism; the familiarity of well-known and respected speakers in the Canadian Family Ministries; and the strength of its host archdiocese and region, inviting guest speakers and local priests for its workshops and Masses.
Through four sessions, CFC-Youth and SFC members grew deeper in appreciation of the past, recognition of the presence of Mary's intercession and Christ's rising, and looked joyfully to the future for another 20 years (and beyond) of both ministries. Friday's session entitled "See Thee Rise", led by National SFC Coordinator John Acosta, recalled the roots of the community in Canada and honoured those who had come before, pointing ultimately to God's faithfulness and love the entire time.
Saturday night saw both CFC-Youth and SFC separate into different programs. While CFC-Youth remained in the War Memorial Gym, SFC gathered in the ballroom of the Student Union Building where many of them had before as CFC-Youth in 2010 for the "ALIVE! All for Christ" conference. In their sessions, CFC-Youths were empowered to recognise challenges in their spiritual lives and service in the community and then overcome them with Christ through "Jesus Live", a talk-show session hosted by CFC-Youth Big Sky Full-Time Pastoral Worker (FTPW) Kyle Beley and Ysabel Germaine. Through "The Beloved", International CFC-Youth Coordinator Kuya Lawrence Quintero, reminded those gathered of God's call for them as beloved and to live out their lives with a truly CFC-Youth lifestyle.
In the Student Union Building, the SFC teachings revolved around John the Apostle through SFC Vancouver FTPW Candy Subang's "The One Who Remained" while CFC-Youth Pacific FTPW Miguel Javier's "To Jesus Through Mary" inspired a desire to deepen a maternal relationship with Mary. While CFC-Youth's night ended in reflective adoration of the Blessed Sacrament, SFC celebrated their 20 years in worship followed by fellowship called Club Praise.
The final session on Sunday morning, "Ignite" given by SFC Toronto FTPW Gelo Saludo, presented the common directions of both ministries moving forward, encouraged everyone in Mary's example to live out their Christian life, and reinforced the identity of being a True North missionary. The entire weekend culminated in Praisefest led by Canada's newest missionary and CFC-Youth Mountain's FTPW, Anton Brosas.
A total of seven Saturday afternoon workshops focused on core aspects of faith in the community. While CFC-Youth's four workshops touched on inspired mission, its resulting work, the rosary, and sacramentals, SFC's three workshops spoke to its culture, speaking on vocation and Christian dating, as well as the lifestyle and loving responses within the community.
It was the strength of the Mass homilies, that continued to drive home the theme and teachings of the weekend. Beginning by praying the rosary and participating in the Mass each day, the 1300 gathered were able to reflect in imitation of Mary, and then learn from the priests who taught just as Christ did. It was as if another three sessions were added to the conference program in these instances.
Though the Archbishop of Vancouver J. Michael Miller, CSB was not able to celebrate, the priests who celebrated represented him well in his stead. Father James Hughes of Saint Patrick's Vancouver, celebrating on Friday night, spoke of Catholicism in the lens of modernity and the far-reaching spread of social media but reminded us that nothing replaces the personal encounter with Christ. On Saturday morning, Father Robert Allore, SJ of Saint Mark's at UBC urged the congregation to bear Christ into the world, especially in our interactions, and share our experiences with Him. Celebrating Sunday morning Mass, Father Glenn Dion, rector of Holy Rosary Cathedral and spiritual director for CFC Vancouver, called us to, "Bloom where you are rooted," and not put it off.
It is hard to succinctly summarise the blessings of this year's conference; God's love and faithfulness are hard to confine and convey in the way we live and encounter others and even harder in words. Greater than the inability to fully express these, however, is the ability to share our encounter with Christ this weekend. If we are lukewarm in our lives, in Christ we are ignited. If we are blind or ignorant or forgetful, we see Thee rise. God has truly blessed the CFC-Youth and SFC communities with 20 fruitful years in Canada, no matter what struggles may have come. If the 2014 True North Conference is any indication, God will bless us in decades with abundantly more.
Written by John Ray Catingub, CFC-Youth Pacific Region, Canada
http://cfcyouth.ca/wp-content/uploads/2014/11/tnc_2014-optimized.jpg
534
800
CFC-Youth Canada
http://cfcyouth.ca/wp-content/uploads/2017/10/YFC_WebsiteLogoV1-1030x433.png
CFC-Youth Canada
2014-11-24 23:56:27
2015-09-08 05:21:46
CFC-Youth and CFC Singles for Christ return to Vancouver, celebrate 20 years in Canada