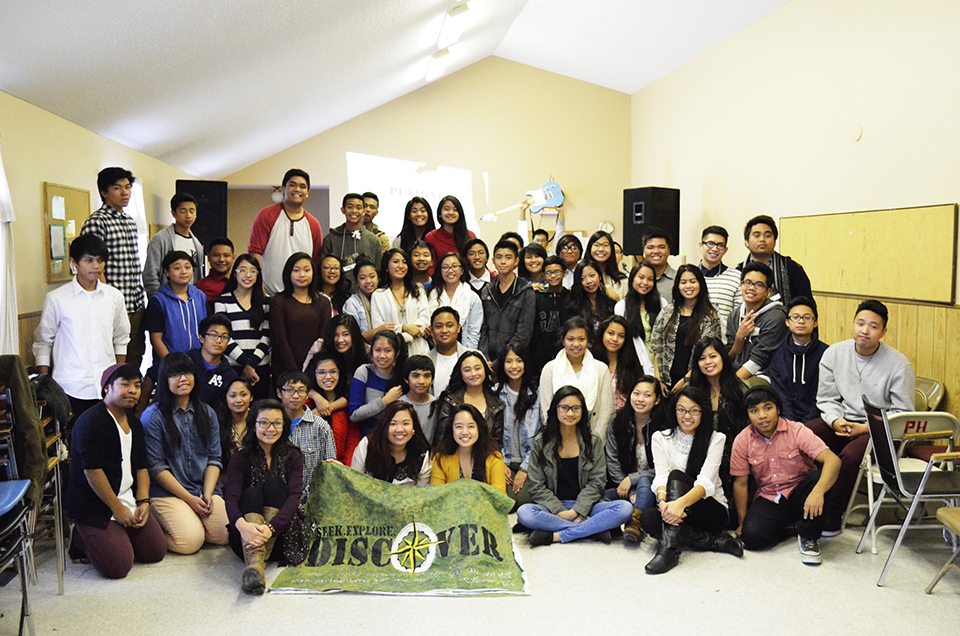 CFC-Youth Calgary, part of Mountain Region, gather for a camp photo at their recent Discovery Camp at Camp Jubilee, Cochrane, AB on November 8-10, 2013. (Photo: Paolo Aquino)
On November 8-10, 2013 there was a Discovery Camp. I really questioned myself if I should go or not just because of how distant I felt from God. Ever since this new school year, I have been struggling a lot with family, school, and my service in CFC-Youth. I would always attend CFC-Youth events, but I wasn't spiritually there. So when the time came to sign up for camp, I prayed about it first. I had already attended one two years ago, but my heart was telling me to go and so I went.
On the first day of camp, I could already feel God's presence. Seeing all of my brothers and sisters in Christ was such a blessing to me. Just being able to talk and have fellowship with them was a great feeling. When the camp began with worship, the feeling I had was just so great. I truly felt the Holy Spirit by my side. I gave my all and surrendered myself to Him. At that time, I realized how much worship really meant to me and how much God loves each and everyone one of us. I discovered the beauty of loving and being loved by Him and that God's love is so unique and infinite that it never ceases to fail.
Throughout the camp, I really opened up my heart to him. During the talks and sharers, I really tried to consume and listen closely to what the Lord's message was to me. All the talks and sharers were so amazing because I learned so much out of them. I could relate so much of their experiences and struggles to my own life. I learned that God will never leave no matter the circumstance you're in and that He will always be by our side, even when we think He isn't.
This camp has truly inspired me in so many ways. I am so motivated and inspired to keep serving the Lord with all my heart and to keep serving this wonderful community whole-heartedly but, most importantly, to keep being and bringing Christ wherever I am. My brothers and sisters in Christ are also such an inspiration to me because of their passion and dedication they have to serve. It just overwhelms me with such joy and excitement. I will never forget this humbling experience and I am ready to live out God's love. Praise God for such an extraordinary weekend!
For I know the plans I have for you declares the Lord, plans to prosper you and not to harm you, plans to give you hope and a future." (Jeremiah 29:11, NIV)
John Doromal, CFC-Youth Mountain Region
http://cfcyouth.ca/wp-content/uploads/2013/11/Mountain-DC.jpg
636
960
John Ray Catingub
http://cfcyouth.ca/wp-content/uploads/2017/10/YFC_WebsiteLogoV1-1030x433.png
John Ray Catingub
2013-11-18 22:45:59
2015-09-08 05:22:17
Mountain Calgary: Seek. Explore. Discover.