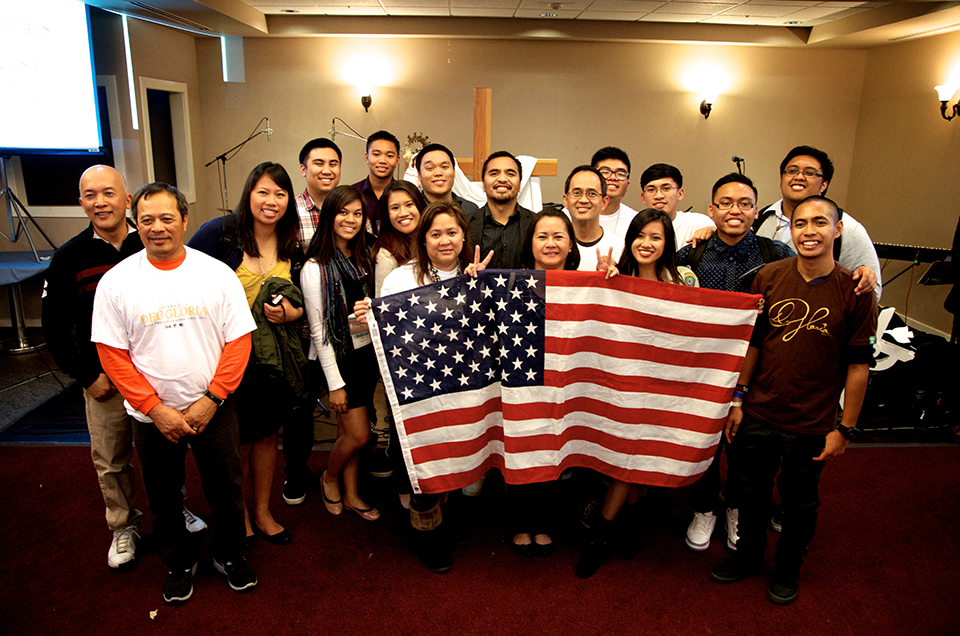 The majority of American CFC-Youth delegates from the North American Leaders Summit (NALS) pose for a photo with their Couple Coordinators and country flag on the morning of Sunday, October 20, 2013. (Photo: Jesse Roca)
Our eight shares today come from our Southern Californian CFC-Youths situated in the Southwest Region. This is the second part of our power shares from our American brothers and sisters. Be sure to come back Thursday for the very last share from the American delegation!
[divider]
Patrick Villanueva, 17, Cluster Head, Simi Valley, Cluster A
I am so glad I got to experience the NALS this past weekend. I could really feel God's presence in the atmosphere. I remember sitting in the room like a sponge absorbing all the information and teachings. Everything was amazing, from the area to the people I met. It was truly a humbling experience and i look forward to the next NALS.
Keana Barrios, 19, Cluster Head, Santa Clarita-Antelope Valley, Cluster A
At NALS, apart from meeting so many talented and inspiring people from Canada, doors were truly opened for us here in the States. There is so much more to the CFC-Youth community than I thought. This weekend motivates me, as well as many others from the US, to go above and beyond our current standpoint and give the community our all. Also, serving with the completely Canadian music ministry (other than myself) reminded me that God works through people everywhere so powerfully through their amazing talents. It makes me smile. Praise God for such a successful and inspiring weekend!
Janel Medina, 18, Cluster Head, Cluster B

I was very blessed to have experienced NALS and gain information that I can take back to my Cluster at home. My favorite workshop was "Leadership 101", allowing us to clearly see, point by point, what we need to do as leaders and how we can accomplish it. Lastly, it was a blessing to be with brothers and sisters from all over North America. With this summit it shows that God has no boundaries and neither does this community. We are all in this fight together to help bring souls to God, no matter what the struggles are.
Lance Guanzon, 21, Chapter Head, San Diego-South Riverside, Cluster C
At NALS, I was inspired. As a current leader, I am very well-versed in the difficulty and hardship that is being in a leadership position. I often feel wrung out and tired, but my experience at NALS changed that. I was humbled by the incredible passion and willingness to serve that I observed in my fellow leaders from across the continent. I was reminded of why we all do these things: for the greater glory of God. I was reignited during worship, and inspired during talks and workshops. I am a leader because God has called me to become one. It is my duty to serve the Lord.
John Abad, 16, Household Head, San Diego-South Riverside, Cluster C
At NALS I was able to discover my calling as to why I want to be a leader and was inspired to lead and evangelize outside of my area. NALS also inspired me to focus on my goals and responsibilities as well as stay consistent with my prayer life and strengthen my foundation before strengthening others. I am very glad I was able to experience NALS and would love to experience it again.
Nikki Imson, 16, Household Head & Music Ministry, San Diego-South Riverside, Cluster C
For me, NALS was such a share-worthy experience. The moment my Chapter walked in on Saturday, I knew that we would be meeting a lot of new people who shared the same passion for serving in CFC-Youth. In the less-than-48 hours I was in Canada, my eyes were opened to the fact that CFC-Youth has brought Christ to youth worldwide. I left feeling very renewed as a leader in CFC-Youth. I left reassured that this is a community that I want to continue putting my service in, for the greater glory of God.
Carmina Chung, 19, Household Head, San Diego-South Riverside, Cluster C
Going into NALS, I didn't know what to expect. But coming out of it, I realize it was just what I needed! In the weeks leading up to NALS, I was fighting a lot of forces that seemed to want to prevent me from attending. But I felt that God was really affirming me during NALS. The quote "God doesn't called the equipped, but equips the called" really resonated with me. I feel revitalized as a leader! And, of course, the weekend was made better by the friendships I made with my new brothers and sisters from Canada!
Taryn Vinarao, 15, Music Ministry, San Diego-South Riverside, Cluster C
At NALS I was able to find inspiration to become a real leader. At the moment I am in the process of becoming a leader and this retreat was like an eye-opener for me. To see all the leaders of North America come together and worship our God, and to see that I was one of those people, was such an incredible experience. I learned a lot about leadership that I didn't know. Also was able to meet amazing and beautiful people from all over the continent and learn incredible worship songs by people just like me.
http://cfcyouth.ca/wp-content/uploads/2013/10/NALS3.jpg
636
960
John Ray Catingub
http://cfcyouth.ca/wp-content/uploads/2017/10/YFC_WebsiteLogoV1-1030x433.png
John Ray Catingub
2013-10-30 03:00:11
2015-09-08 05:22:44
#OneNewWorld: For Greater Glory