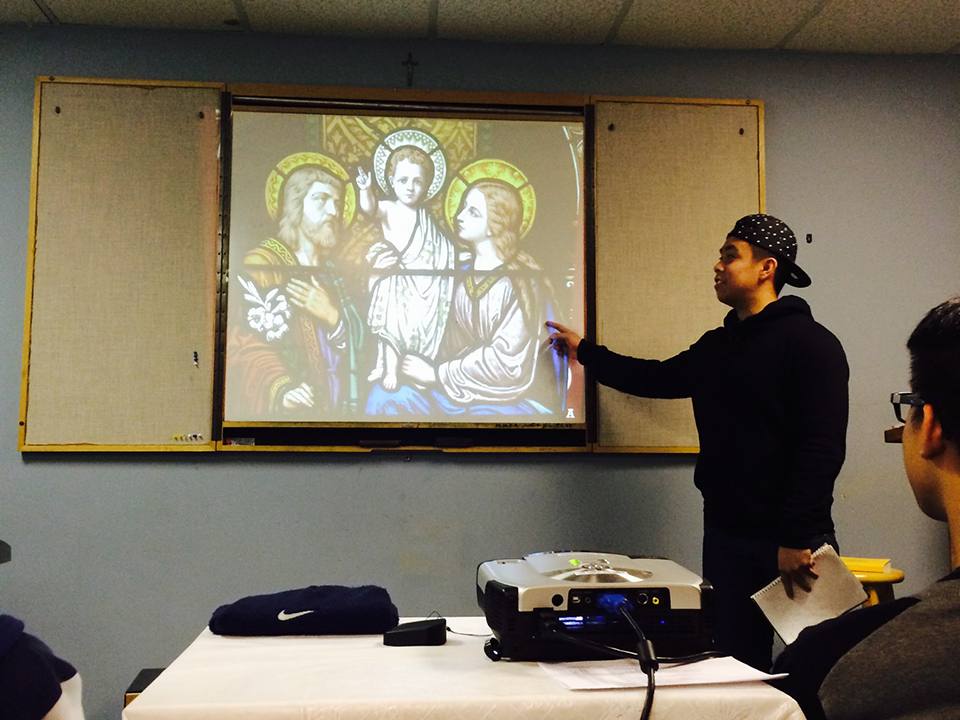 Christian Arenzana shows who the perfect family is at Central Cluster's Covenant Orientation at the CFC Office in Richmond, BC on February 22, 2014. (Photo: JC Paysan)
At Central Cluster's most recent Covenant Orientation, members of Vancouver 1 and 2 renewed the promises they made to Christ at their Youth Camp and learned how to put their promises into action. We were taught that in order to live out our covenants with Christ, we had to "Love, Honour, and Serve" Him and that doing so requires commitment and sacrifice. Loving, honouring, and serving God means we must love, honour, and serve our families, brothers and sisters inside and outside the CFC-Youth community, and our country.
"And he said to him, 'You shall love the Lord your God with all your heart and with all your soul and with all your mind.'" (Matthew 22:37)
We are called to love God back by living out the principles of Christ, by uniting ourselves with him through prayer, and by being single minded for Christ in everything that we do. I learned that encountering obstacles and experiencing trials and tribulations is not a sign for me to turn away but instead a call for me to pray more and to pray harder. It is also important that we are sources of unity in our families, which means that we are to be instruments of healing and hope for other families. In order to maintain stable relationships with our families and brothers and sisters in Christ, we learned that commitment and loyalty is important and that consistency is necessary.
The same goes with our relationship with Christ. In order for us to have a strong relationship with Him we are required to be loyal by protecting His character and to commit by being consistent in our prayers. As children of God we are called to be stewards of the Earth, which means we must serve our country. This means that we shouldn't be polluting our country by littering and breaking the law through little things such as jay-walking. This also means that we are to exercise our right to vote as by speaking out against laws that go against our faith without denouncing the government itself. Most importantly, we are called to serve the people of our country, meaning we have to answer to the cry of the poor.
When we genuinely offer ourselves to our faith community, we show how much it means for us to have Christ in our lives; it is an expression of how much we LOVE Him. When we choose to love our families, it's our personal acknowledgement of one of the greatest gifts and blessings that He has given us; it is one of the many ways in which we HONOUR Him. When we sacrifice our time and efforts for our country in the likes of caring for those who are less fortunate, it's a countenance of how much we long for him, and want Him at the centre of our lives. By serving in whatever capacity we can, ultimately we SERVE Him.
Pauline Suelto, CFC-Youth Pacific Region
http://cfcyouth.ca/wp-content/uploads/2014/03/Central-CO-03-14.jpg
720
960
CFC-Youth Canada
http://cfcyouth.ca/wp-content/uploads/2017/10/YFC_WebsiteLogoV1-1030x433.png
CFC-Youth Canada
2014-03-07 23:37:02
2015-09-08 05:22:16
Pacific Central: Loving, Honouring, and Serving Him