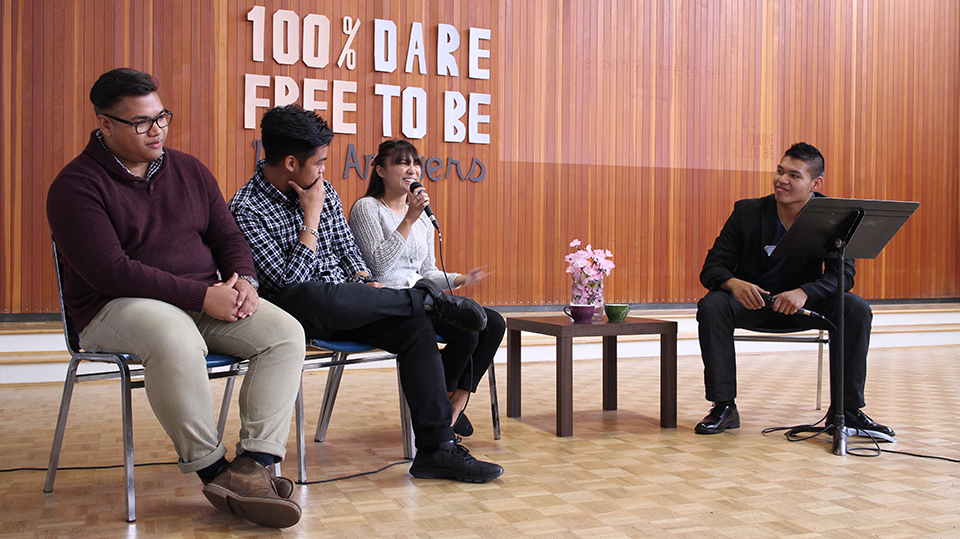 Christian Marquez, Bryan Abas, and Nikki Dionisio are interviewed by Neil Francisco (right) during session two of "100% Free: Dare to Be" at St. Bernadette Parish in Surrey, BC on September 7, 2013. (Photo: Nat Abad)
Young Catholics are counter-cultural, not only in our faith and works but in who we are to society. We might die to ourselves daily in choosing belief over unbelief, love over indifference, and servitude over selfishness but what about choosing sobriety over drunkenness or chastity over impurity? How can we choose freedom over the slavery to sin that the world's culture sells us?
I attended East Cluster's Phase 2 event "100% Free: Dare to Be" on Saturday and saw how effectively CFC-Youth equips us to handle the world's temptations. Through three sessions, two creatives, two worships, and Praisefest, I grew to understand what it takes to live out our identity as 100% Free. In the end, however, it always begins with a decision to choose Christ.
For freedom Christ has set us free. Stand firm, therefore, and do not submit again to a yoke of slavery. (Galatians 5:1)
Identifying as 100% Free means freedom in Christ to live out who we truly are but also freedom from sin if we so chose. We are free to live, be, and love: to take care of our bodies, live our lives as God intended, and love genuinely to reflect God's genuine love. We have to remember to choose the love of Christ embodied in this identity: in freedom He wants us to be our best.
This world's lures aren't any less tempting as a CFC-Youth but I'm more understanding of the consequences and effects of my sins. As a leader I'm not immune to temptation and, just as we all do, I've sinned, only to gaze upon Christ, seek His forgiveness, and be absolved in Confession.
I've rejected Christ in high school and chose feel-good sins like underage drinking at parties and recreational smoking but these left me with only a deep longing for Someone substantial. Even if I wasn't in CFC-Youth at the time, I was a Catholic at a Catholic school who knew it was wrong. I eventually grew out of it but even when I joined the community at 18 and reached the legal age eight months later I continued to drink, justifying my actions with legality, not morality. I didn't see the harm of beer with a meal or highballs on special occasions. I opposed 100% Free because it conflicted with the slavery I was comfortable with.
Eventually I came around. Starting with obedience for my sake, my espousal of the identity turned to obedience for others' sake. I didn't want to see young brothers and sisters fall into sin or lose sight of Christ or be a hypocritical leader who failed to walk the talk. Obedience turned to love of Christ, trusting in His anointing manifested in the community's identities. With love came freedom and with freedom comes new life, purposeful being, and sincere love.
I still face the same temptations but it's easier to choose Him with His promise of freedom and fullness of being. I stand firm only because He has empowered me. I dare to be because He dares to love.
John Ray Catingub, CFC-Youth Pacific
http://cfcyouth.ca/wp-content/uploads/2013/09/IMG_7305-1.jpg
539
960
John Ray Catingub
http://cfcyouth.ca/wp-content/uploads/2017/10/YFC_WebsiteLogoV1-1030x433.png
John Ray Catingub
2013-09-24 07:23:09
2015-09-08 05:22:45
Pacific East: Living, Being, Loving