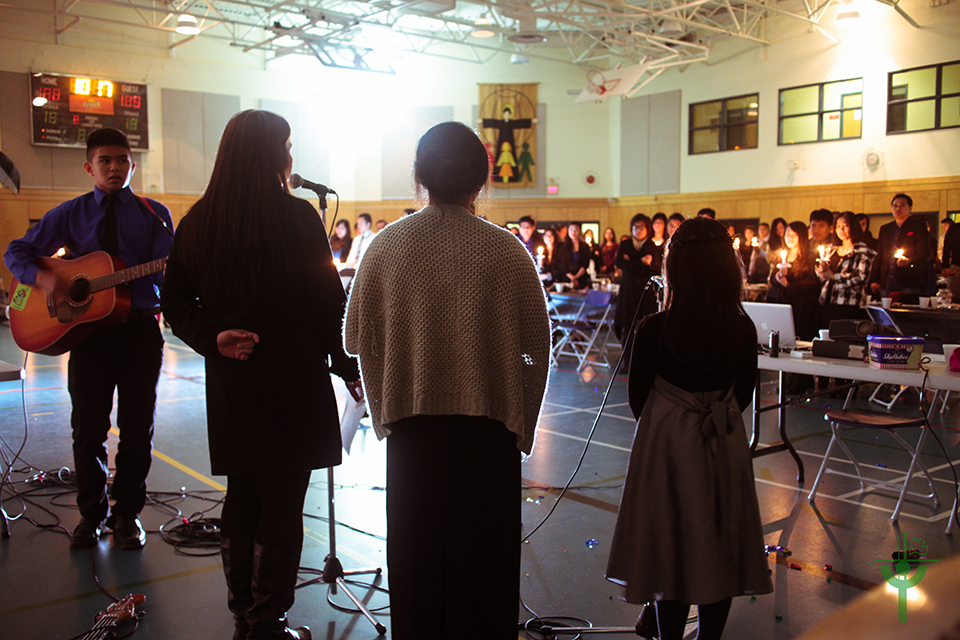 Members of CFC-Youth gather together with their parents for closing worship at the Don Bosco Youth Centre, Surrey on the evening of November 23, 2013. (Photo: Nat Abad)
Our parents are simply a reflection of the Lord's unfathomable love for us. I attended East Cluster's second phase event called "Parents Honouring Night" on Saturday, November 23, 2013 and was simply reminded of how much we truly need to appreciate, serve, honour and love our parents for all they've done for us.
Honour your father and your mother, that your days may be long in the land which the LORD your God gives you." (Exodus 20:12)
The evening started with Mass! How beautiful is it to worship the Lord with the people I love the most under the roof of the God who loves me dearly. On top of that, to worship the Lord with my greater family of CFC-Youth, I can truly say I am blessed.
As the night progressed, through the performances, the sharers, reflection, and closing worship, there was an ongoing theme, that is: our oneness with the Lord.
We are one in You, Lord" ("One" by CFC-Youth Liveloud)
There was one sharer in particular that I can really relate to the most and that was with a beautiful sister, Jasmin Bermejo. Her share was about thanking her parents for allowing her to grow up in this ministry and to be serving the Lord alongside her parents.
I personally grew up in this ministry for almost 16 years, starting with CFC-Kids for Christ to currently serving in CFC-Youth. I was one of those kids who had their parents with them in every event, even being dragged to Couples for Christ events because my parents were strongly involved in the community. To this day, I still have my parents coming to every event with me. From every General Assembly to Conferences, they're always there.
It took one sister to randomly approach me and tell me, "You're so blessed to have your family always with you." And then it hit me: through the times I've complained that my parents are always around, there is someone out there praying for opportunities to spend time with their parents. The Lord truly used that sister as His instrument to show how blessed and grateful I should be, serving Him alongside my parents.
During closing worship I couldn't help but smile. I didn't have to open my eyes to witness such beauty, of families worshiping the Lord together, but hear the sound of angelic voices around me and truly feel that the spirit is strong and is evident within each and every person. This night was full of opportunities to reciprocate the love our parents/Couple Coordinators have for us by simply honouring and thanking them for all that they do for us.
To one of the most loving and selfless people I know:
May the Lord continue to bless your missionary hearts as you continue to inspire others through your service and glorify the Lord in all that you do. I praise and thank Him for you both, for instilling such immeasurable love for the Lord in me. As we embark our journey towards Christ together, may we immerse ourselves to grow to love Him more each day, till the day the Lord tells us, "well done my faithful servants."
To God be the glory!
Diane Dimacali, CFC-Youth Pacific Region
http://cfcyouth.ca/wp-content/uploads/2013/11/PHN2013.jpg
640
960
John Ray Catingub
http://cfcyouth.ca/wp-content/uploads/2017/10/YFC_WebsiteLogoV1-1030x433.png
John Ray Catingub
2013-11-25 10:40:56
2015-09-08 05:22:17
Pacific East: #PHN2013: Source of Unity