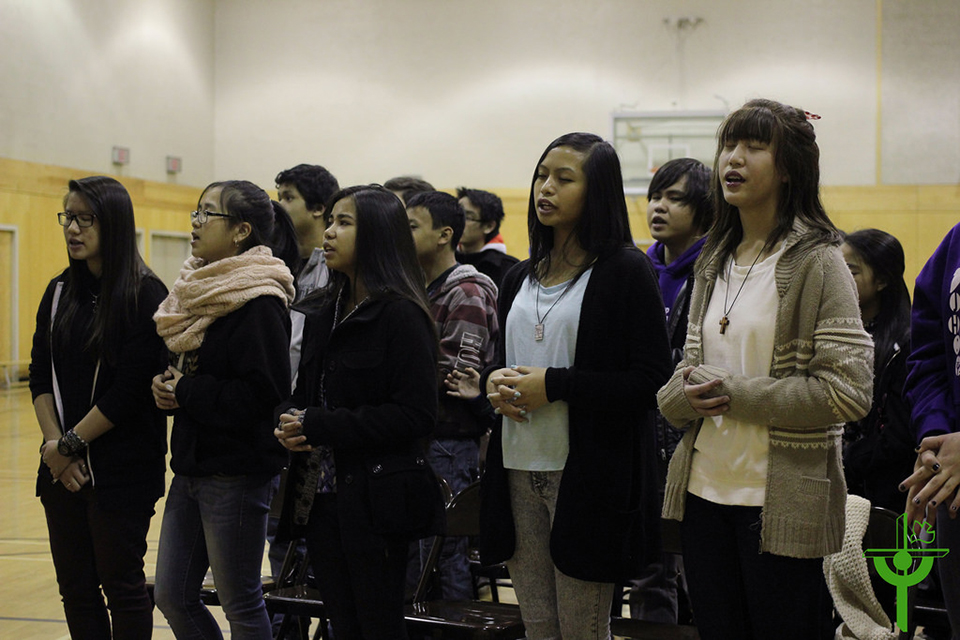 Surrey 2 worships during the February Chapter Assembly. (Photo: Camille Reyes)
Jesus said to them, 'I am the bread of life; he who comes to Me will not hunger, and he who believes in Me will never thirst.'" (John 6:35)
Surrey 2's February Chapter Assembly (CA) gave me a whole new perspective on the Mass but, to be more specific, the Eucharist–otherwise known as the most important part of the Mass.
Even before I knew we would be hearing a talk about this, I already knew it would be a great CA. As we went on with opening worship, I felt the presence of one very special being. I opened my eyes to see nothing in front of me though I felt as if someone was surrounding me and telling me something. I knew who this was and caught myself smiling for the rest of opening worship. After this, I felt as though I would be learning something very valuable in the next hour. I then realized what I was going to be learning about and that was the Eucharist.
The Eucharist is the source and the summit of the Mass. You are a part of the Mass and you are to actively listen and actively pray. The Mass is a two-way relationship: you are to put something into this relationship if you want to be able to get something out of it. If you have no drive to go to Mass, you will find yourself sitting there for an hour and not taking anything in. You learn something new every time you go to Mass even though you may not notice this at times. Once you experience the love of God at Mass, you are not to hide it once you exit the Church, but share His everlasting love with all who need it.
The Church is not the ideal place for a regular teenager to be on a Saturday night or Sunday morning but that is the thing about Mass; it is not ordinary. It is extraordinary. As the talk was coming to an end, we were given a challenge. This challenge make take a lot of sacrifice and will power but the reward is so much greater than the what you may be giving up. The challenge is to go to Mass one more day a week than you usually do–it means going at least half an hour or the whole 60 minutes. Challenge accepted!
Arden Medina, CFC-Youth Pacific Region
http://cfcyouth.ca/wp-content/uploads/2014/02/February-S2-CA.jpg
640
960
John Ray Catingub
http://cfcyouth.ca/wp-content/uploads/2017/10/YFC_WebsiteLogoV1-1030x433.png
John Ray Catingub
2014-02-08 09:00:21
2015-09-08 05:22:16
Pacific Surrey 2: Bread of Life