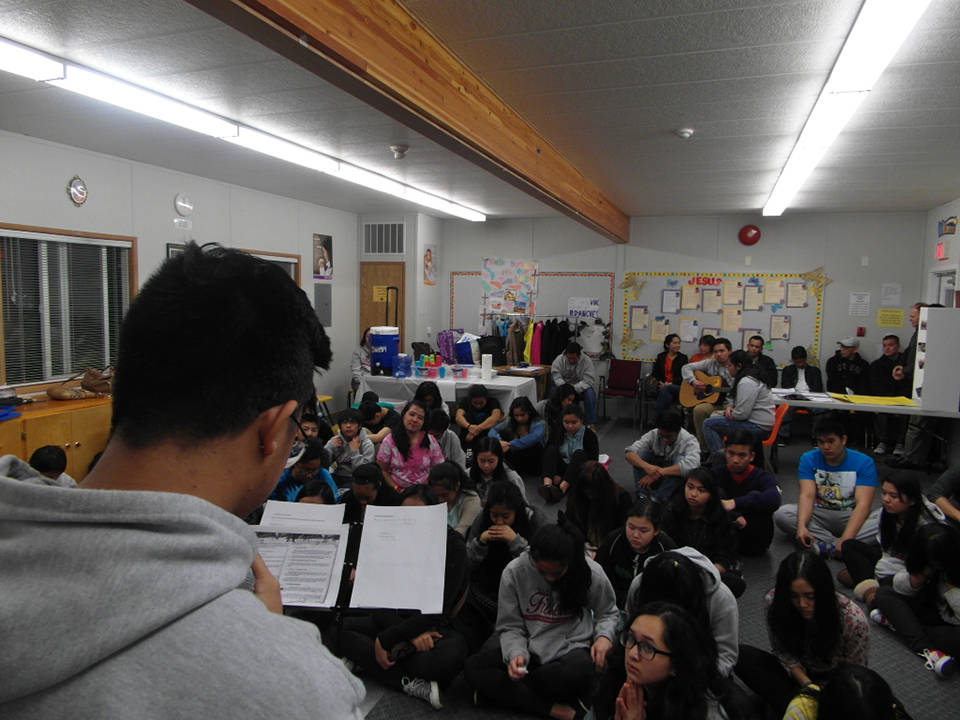 Session leader, Joed Sayat (left), prays over CFC-Youth Tri-Cities during reflection. (Photo: Miguel Legaspi)
Behold, God is my salvation, I will trust and not be afraid; For the lord God is my strength and song. He has become my salvation" (Isaiah 12:2)
After putting more focus and time towards school for the past few weeks, attending the Tri-Cities Chapter Assembly (CA) really helped relieve all of the stress I've built up and allowed me to lift it all up to God. This CA in particular is very special because it's the first event ever with the new members from Camp Fidelis!  Being able to see my chapter grow in numbers brings a lot of joy to my heart.
We began the evening with Mass and the Sacred Heart of Jesus novena and then moved on to the portables to begin praise and worship. I had to leave right after Mass to prepare and ready myself because I was leading worship. I became tense and nervous, knowing that it had been awhile since the last time I led a worship and because I wanted to give the new members a taste of what was to come. As everyone came rushing into the portables, I lifted all my worries and doubts to God knowing that He would be with me. Everything went better than expected! Everyone was engaged in worship, the music ministry sung and played beautifully, and I was happy with the outcome.
Afterwards, my good friend Joed Sayat lead his very first talk called "Family Matters" about the importance of a strong and sturdy relationship with your family. He touched base on how a family that prays together stays together and to lift up all struggles to God. Joed brought up another one of my good friends, Dave Aguila, to share about his tight-knit family and how his experiences with struggles helped him realise how much God has blessed him with. His share and all of Joed's talk showed me how every struggle my family and I are faced with are trials that are meant to strengthen our bond.
As the CA began to close, we took it as an opportunity to get to know all the new members and welcome them into our CFC-Youth Tri-Cities family. God has truly blessed us with an amazingly successful CA! I hope to see many of the old and new faces I got the chance to chat with that night in the coming events this year!
Geoff Gutierrez, CFC-Youth Pacific Region
http://cfcyouth.ca/wp-content/uploads/2014/04/Pacific-Tri-Cities-CA-April.jpg
720
960
John Ray Catingub
http://cfcyouth.ca/wp-content/uploads/2017/10/YFC_WebsiteLogoV1-1030x433.png
John Ray Catingub
2014-04-08 15:00:40
2015-09-08 05:21:47
Pacific Tri-Cities: Family Matters