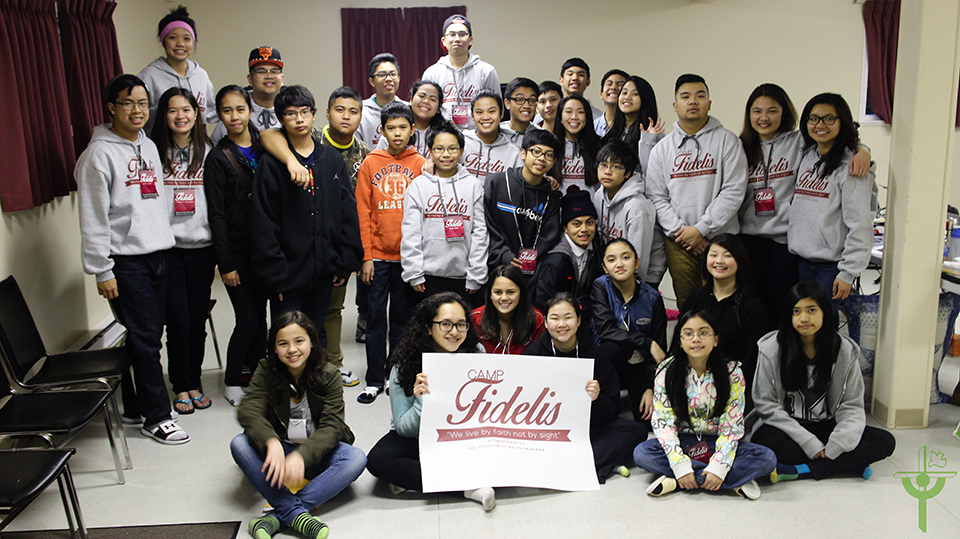 New members of CFC-Youth pose with the Camp Fidelis service team at the end of camp at the Stave Lake Lodge in Mission, BC on March 16, 2014. (Photo: Nat Abad)
From Camp Oasis last year to Camp Fidelis this past weekend, CFC-Youth Tri-Cities just has a knack for touching my heart. I've only been in CFC-Youth Tri-Cities for one year yet I can't imagine my life without them!
Entering into the "pre-camp" phase with the service team was truly an accurate foreshadowing of the moving events that happened during our fun, faith-filled weekend. Not a single member was lacking enthusiasm in their service. From the Household Leaders Training, service team meetings to camp empowerment, I met such a passionate, inspiring group of people.
After months of preparation, we all arrived at Stave Lake Lodge for the first day of camp. The participants filed in, the music was flowing, and I smiled a little as I thought about how the new members thought they were being taught when, in truth, they were teaching me even more.
As a CFC-Youth member serving for camp for the first time, it was quite intimidating to be serving with my fellow brothers and sisters who are experienced and spiritually mature. But the entire camp went so smoothly that by the time Sunday morning came around I could only smile through the tears and praise God for the blessing of such a rewarding, love-filled experience with my old and new brothers and sisters in Christ.
With all the amazing talks, shares, songs, and people, Camp Fidelis truly surpassed my expectations.
In addition to the diligent, inspiring service team, I couldn't have been happier with the group of brothers and sisters that I had the honor to help in evangelizing. At first, I was a bit intimidated because many of the new members were pretty shy but seeing how fervently everyone had worked to make this camp a success really inspired all the facilitators to step up to the challenge. THREE DAYS. It was an amazing feeling and privilege to watch as my new brothers and sisters opened themselves to Christ and blossomed in such a short span of time. To think that we had a hand in helping them come closer to God is mind blowing. My life was changed by the Camp Oasis service team when I joined as a member less than a year ago, and I feel so blessed to be part of the Camp Fidelis service team where I can help my brothers and sisters grow in Christ. Wow.
God truly does grant miracles. I witnessed several, as my quietest household member opened up and laughed for the first time during Anna Kendrick's "Cup Song" performed by the sisters at the talent show. I also saw God's miraculous work as my brothers and sisters from the service team bared their souls for everyone to see in the heart-wrenching, soul-uplifting, tear-jerking empowerment session. And, especially in the last worship, the participants stepped away from their reservations and truly opened themselves up to Jesus: holding hands, eyes closed, and hearts open. No one was unaffected.
So… Camp Fidelis, wuaw! Pwede! CFC-Youth Tri-Cities is an amazingly passionate chapter and this camp has only added to the number of God-loving people in the CFC-Youth community. I am truly excited to see what happens next. "This is only the beginning," as our Tri-Cities chapter head, Miguel Legaspi would say.
Mary Clarin, CFC-Youth Pacific
http://cfcyouth.ca/wp-content/uploads/2014/03/Pacific-Tri-Cities-Camp-Fidelis.png
539
960
John Ray Catingub
http://cfcyouth.ca/wp-content/uploads/2017/10/YFC_WebsiteLogoV1-1030x433.png
John Ray Catingub
2014-03-25 11:50:03
2016-06-22 05:47:51
Pacific Tri-Cities: Holding Hands, Eyes Closed, and Hearts Open