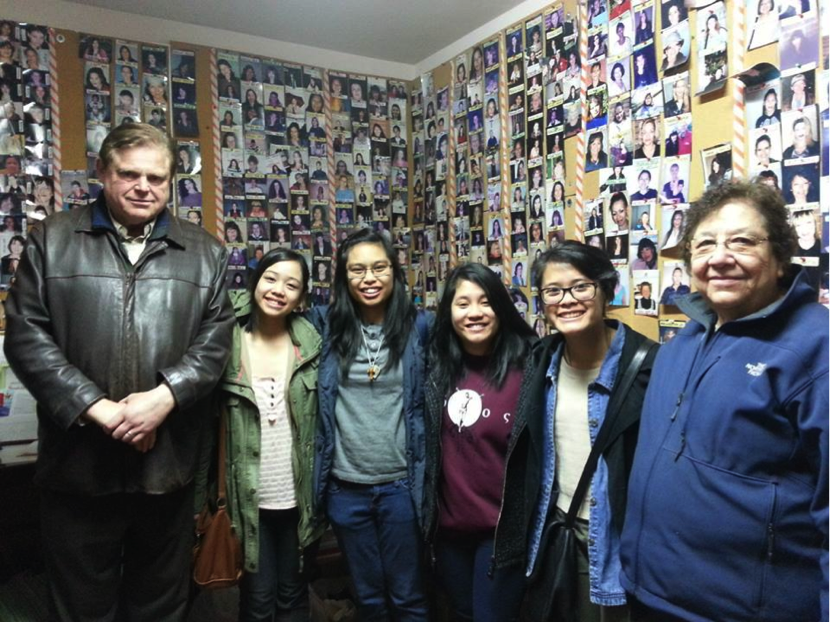 Agape Walkers Maria Villanueva, Pamela Atienza, Lorryzel Badajos, and Jasmin Bermejo (from left, middle four) pose for a photo at Agape Street Ministry in Vancouver, BC in January 2013.
The call to love, honour and serve our country by caring for the less fortunate brought myself and my sisters, Maria Villanueva, Lorryzel Badajos and Jasmin Bermejo together with the Agape Walk Ministry in January of last year.
With our Chaperones, we packed our bags with smaller ones filled with candy and sweets to offer to our sisters in Christ who lived and worked on the streets of East Hastings, Downtown Vancouver. As we set off, our leader Tita Amelia, approached a young woman and offered her a bag of candy. Willingly, our beautiful sister accepted our small gift and prayers for herself and her mother.  Moving forward, we met many sisters who had prayers and intentions and prayed with us as we continued to give out the bags of candy.
One woman in particular stayed in my mind. She was small in stature with a dark ponytail wearing only a layer or two of clothing in the chilly evening. She prayed with us in our circle and when Tita Amelia gave her the time to lift up any intentions, she praised God as she started her prayer, "My dear Creator, the God that loves us, the King of all, I thank you…" I remember feeling awestruck. Even though she lacked the necessities to live a proper life, and no matter how cold it was that night and as she continually struggled and carried her crosses, she still took the opportunity to Praise and give thanks to the Lord. Moreover, her prayers were not for money, not even for herself. She prayed for her family and for everyone who was on the streets as well as for the rest of the world to experience God's love. I believe I encountered a princess of God that night and we incessantly met more of them as the night grew older.
As a CFC-Youth member we are called to be and bring Christ whenever and wherever we are. During the Agape Walk, another sister we met taught me what that truly meant. We started to hand out Rosary bracelets with the candy bags and a sister come up to us and asked for another Rosary. Tita Amelia asked for whom the other was for and she replied, "It's for my boyfriend, I want him to pray it with me."  One might think, "Awe, that's cute." And I did at first. But when I reflected on it, as our gracious sister asked for another Rosary to pass on, I thought, to be like her is something that we ourselves should strive for; to bring others to Christ through Mama Mary.
We are so blessed to have such a loving mother in Mary. She cannot be outdone in generosity. By asking her to bring not only ourselves but others closer to her son Jesus, we are therefore given one of the greatest blessings of finding rest in Him. The revelations that this Agape Walk gave me are ones that I won't soon forget. I now pray the same prayer as our sisters in Christ. For our family, our loved ones and for the world to find God's love no matter the burden of our crosses and that we too, may be an example like our sisters to be and bring Christ to others, all in the intercession of our Most Holy Mother. And with that may God be praised!
Pamela Atienza, CFC-Youth Pacific Region
http://cfcyouth.ca/wp-content/uploads/2014/02/RevUP-February-Agape.png
623
830
CFC-Youth Canada
http://cfcyouth.ca/wp-content/uploads/2017/10/YFC_WebsiteLogoV1-1030x433.png
CFC-Youth Canada
2014-02-13 12:00:41
2015-09-08 05:22:16
#RevUPFebruary: Agape Walking with our Sisters in Christ