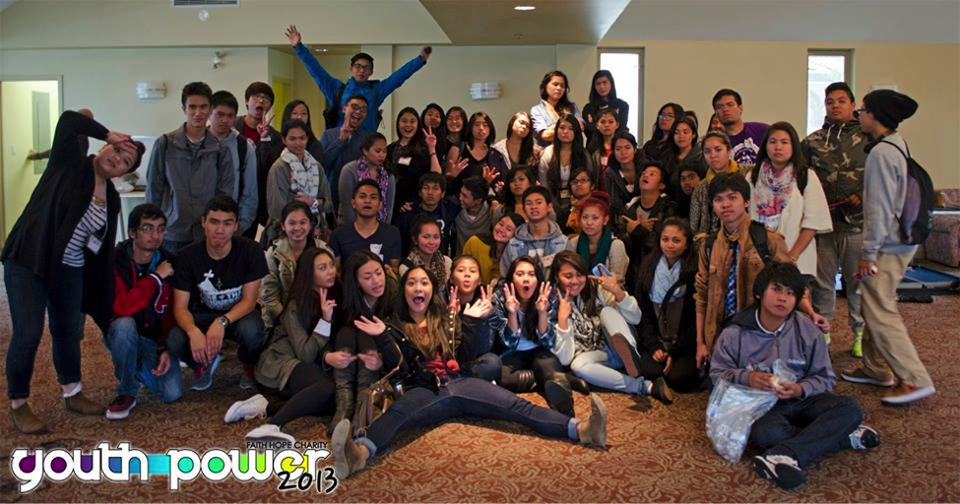 Members of Pacific West Cluster gather for a group photo during their Youth Power event on September 28, 2013. (Photo: Mark William Valdez)
It's been almost five months since I attended Pacific West Cluster's Youth Power. I may not remember every details but I'll never forget how it made me feel. My heart really filled up with joy and I cannot feel anything else in my heart but love for God and others. It was one of the days that is full of smiles, "Thank You-s" and love. It made me see Jesus in everyone and how beautiful life is.
That day was so rainy but I was still so excited to attend. I didn't know what God had in store for me but I was so excited to worship the Lord and learn new things.
The first activity that my group did was write letters for the West Cluster's sponsor children. It was hard at first because I didn't personally know them and I wondered what I could tell them that would come from the heart. A thought came to mind that had me thinking: these are people like me. They also study and have dreams. They are also people who go through life's ups and downs. What's different is that I have more things, more comfort. Aside from helping them through donations, I could also help them by encouraging them and by reminding them about God's beautiful plan.
I realized that helping the poor is not only about giving money or things; it's also about helping others through the comfort of words and by being a friend. Sometimes people just need to be reminded how loved and blessed they are, that they have a friend who can listen to them. Being a Champion of the Poor is not only lending your treasure but also lending your time to others, especially those who are poor in spirit.
The second activity was to go to the mall to do Random Acts of Kindness (RAK). My partner, Eula Chua, and I first went to go to the food court and helped the cleaning lady to clean up trays from tables. We held doors for people, folded clothes, and gave out free muffins and coffees to strangers. All the words of gratefulness and big smiles that we received gave us so much joy and they reminded me of how more awesome life would be if we do RAKs everyday.
RAK-ing can be done in so many–even small–ways. We shouldn't miss opportunities that we have every day to do good. There are no limitations. Even a simple smile or "How are you?" can brighten up other people's days. Mother Teresa said,
Kind words can be short and easy to speak, but their echoes are truly endless."
The last activity touched my heart the most. We gave out food and water to homeless people downtown. I'll never forget the way they reacted. I saw the way their faces lit up as we handed food to them. It touched me because these are the people who barely have anything. They sleep in the streets while I have a house to sleep in. They barely have any food while I get three meals a day. I couldn't help but feel so grateful and blessed, and I couldn't help but pray to God for them.
Times like those, when I see poor people coping with the little things that they have, always make me feel that I need to share my blessings with them and that I need to help them with what I have. Those people always remind me to be selfless and giving. The Bible says,
The entire law is summed up in a single command: Love your neighbour as yourself." (Galatians 5:14)
God tells us to love each other deeply like the way He loves us. He wants us to be generous and to live a life full of love. By loving, we should think about the good of others and help as much as we can.
That day ended leaving me with so much joy and love in my heart. I was so thankful to God for that opportunity and for showing me the beauty of life through giving. It proved to me that serving the poor really equals to joy.
Let us continue to RAK the world and spread the joy!
Joy Sigua, CFC-Youth Pacific Region
http://cfcyouth.ca/wp-content/uploads/2014/02/West-Youth-Power-2013.png
504
960
John Ray Catingub
http://cfcyouth.ca/wp-content/uploads/2017/10/YFC_WebsiteLogoV1-1030x433.png
John Ray Catingub
2014-02-27 12:00:54
2015-09-08 05:22:16
#RevUPFebruary: Serving the Poor with our Brothers and Sisters