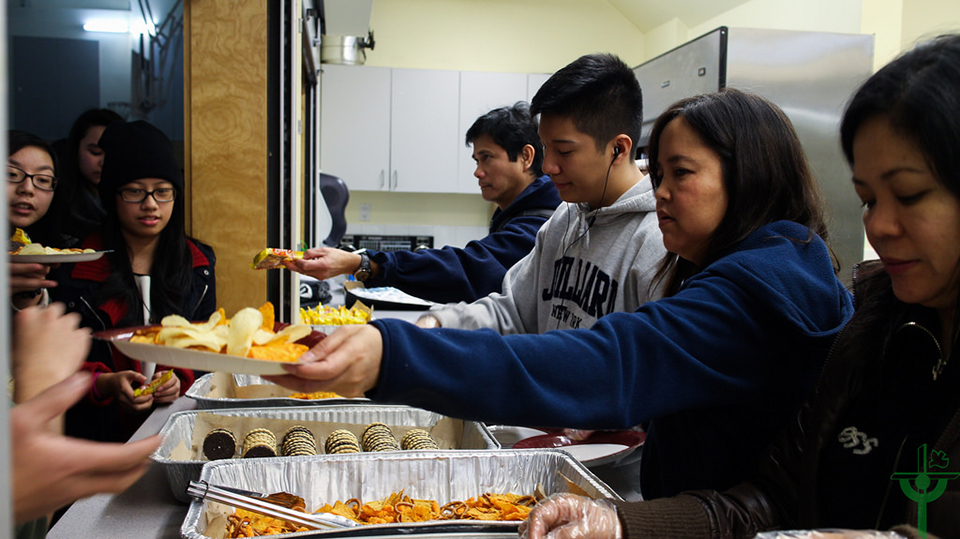 Robbie Del Val (in grey) and the Couple Coordinators of Surrey 1 serve food to the hungry youths of the Chapter at the Don Bosco Youth Centre in Surrey, BC. (Photo: Nat Abad)
February's Surrey 1 Chapter Assembly (CA) 120 youths filled the Don Bosco Youth Centre. At times I would see a brother or sister alone and another person would go over to them to talk with them. This put a smile on my face.
This CA was lead by Frederick Balce representing RevUP (Revolution of Uplifting the Poor) for the RevUP awareness month. We started off with a fun game. We were split into brothers and sisters and two people would form a bridge with their arms. The objective was to get everyone over first without hurting themselves or the bridge. Everyone was having fun going over the bridge and finding the best ways to get over. This activity built teamwork and trust within the brotherhood and sisterhood, but also came alone with a good lesson. There are things we cannot do alone without consequences, but with others we may be able to push through. Just like the game we need someone to help us over and someone to catch us especially for those who are in need for example to poor which led to the next part.
The next part was a talk about one of the seven identities, the Champion of the Poor. This talk was shorter than others and straight to the point which made it easier for me and others to learn and not become bored.
Seeing the strong bonds within this community and the enthusiasm everyone has within CFC-Youth never fails to fill me with joy. As this community grows so does the love that we spread to others.
It is not how much you do but how much love you put into that action." (Blessed Mother Theresa)
Jorj Cuison-Valerio, CFC-Youth Pacific Region
http://cfcyouth.ca/wp-content/uploads/2014/02/RevUp-February-Jorj.jpg
539
960
CFC-Youth Canada
http://cfcyouth.ca/wp-content/uploads/2017/10/YFC_WebsiteLogoV1-1030x433.png
CFC-Youth Canada
2014-02-28 06:21:13
2015-09-08 05:22:16
#RevUPFebruary: To Learn and To Love