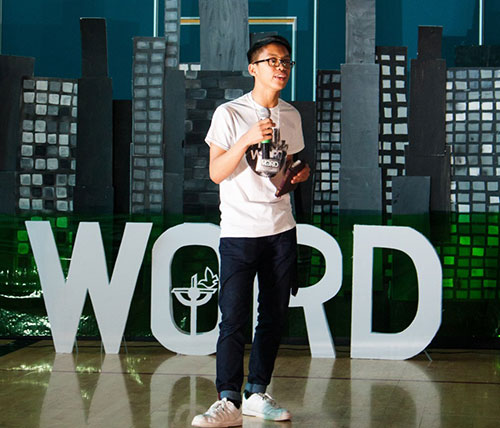 John Sangalang, a Vancouver 1 Household Head from Central Cluster, leads worship on the first night of Pacific Region's Regional Youth Conference at the Guildford Recreation Centre in Surrey, BC on May 16, 2014.
Ask, and it will be given to you; seek, and you will find; knock and it will be opened to you," –Matthew 7:7
After a hectic three weeks of non-stop work, school and service, I came into Regional Youth Conference (RYC) exhausted, stressed but with an open heart ready to see what the Lord had in store for me. I had the amazing opportunity to lead over 650 of my brothers and sisters into worship which is an experience like no other. In my exhortation I mentioned my feelings of spiritual dryness and how I could not see God in my times of stress. I came into RYC in search for the answer to the question, "Why do we have to suffer?"
The first session was titled, "Ask" given by our new full time worker Hannah Pambuan. In this session I was reminded of how intimate our Lord God is. So intimate that he calls us by name. He wants to communicate with us so that he can reveal his love to us. I learned not to be afraid to communicate and ask Christ. Through Ariel Bejer and Mickjay Quiamco's shares I was affirmed that my prayers would be answered. What struck me the most however was a poem by Claudia Minden Welsz:
I asked God to spare me pain, and God said, 'No'. He said, 'Suffering draws you apart from worldly cares and brings you closer to Me'."
God will answer not according to our wants, but His will. My question to suffering was answered.
The night was capped off with worship led by Kevin Locsin. His exhortation began with us turning to our neighbors saying, "You are loved." This was the moment where I felt Christ the most. His intimate love was manifested in each and every one of my brothers and sisters. In the midst of worship I prayed and began to seek and ask God. I asked him not to take away my sufferings but rather to allow me to see him through it all. At that point it was like a void in my heart was filled. After going so long feeling spiritually dry I felt quenched and more eager than ever to experience Christ.
In the times where I thought I could not feel Christ in the storm, He was there knocking at my heart. All I needed to do was let Him in and trust in His will. For His will is greater than any other plan I can imagine. I found His strength in my times of weakness. Day one of RYC: Word brought forth its blessings, the victory was truly won.
But he said to me, 'My grace is sufficient for you, for my power is made perfect in weakness.' Therefore I will boast all the more gladly about my weaknesses, so that Christ's power may rest on me." – 2 Corinthians 12:9
John Sangalang, CFC-Youth Pacific Region
http://cfcyouth.ca/wp-content/uploads/2014/05/john.jpg
428
500
CFC-Youth Canada
http://cfcyouth.ca/wp-content/uploads/2017/10/YFC_WebsiteLogoV1-1030x433.png
CFC-Youth Canada
2014-05-20 01:15:50
2015-09-08 05:21:47
#RYCWord: Thy Will Be Done...