Three weeks after the 22nd CFC-Youth International Conference in Surigao, Philippines, a few brothers of the West Sector of the Greater Toronto Area, met up in downtown Toronto for an evening of worship and fellowship…
A simple gathering of brothers from all over the GTA, Mississauga, and Brampton at Queen's Park in downtown Toronto. Metro West Sector Head, Niccolo Arboleda, led a WAP (Worship At the Park) inspired by an experience from Surigao. WAP is a practice held by the local YFCs every Wednesday where they sing songs of praise and worship at a park.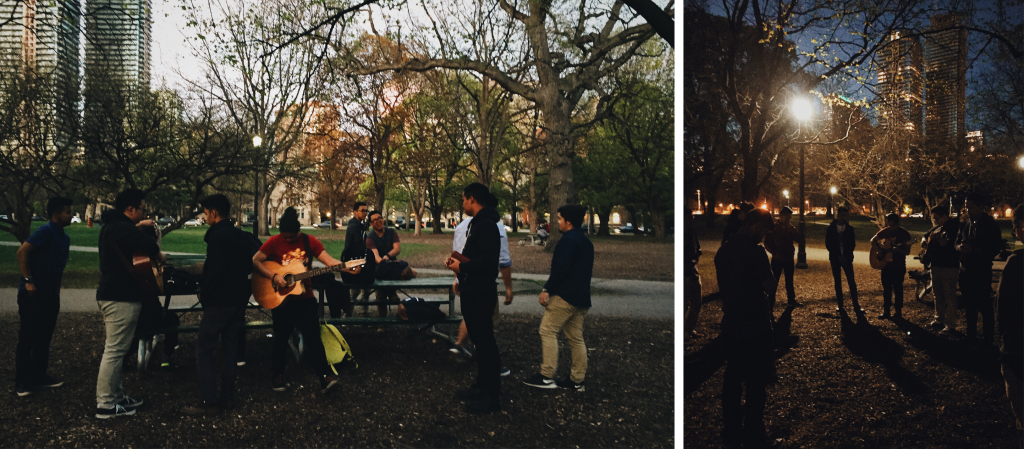 With inspired readings on brotherhood, camaraderie, and resilience in mission, the evening ended off with a dinner fellowship at a nearby Korean restaurant.
As the group breaks off for the commute home, the experience of being in the company of one another, regardless of time or distance, is a reminder of what the community of CFC is built upon; the human connection within the divine. Whether it be worshipping at a public space or cracking jokes while eating Korean chicken wings, faith and community is built through relationships. The West Sector brothers WAP is definitely the first of more to come.
Martin Angeles, CFC-Youth Metro Region
http://cfcyouth.ca/wp-content/uploads/2015/05/IMG_9089.jpg
2206
3231
CFC-Youth Canada
http://cfcyouth.ca/wp-content/uploads/2017/10/YFC_WebsiteLogoV1-1030x433.png
CFC-Youth Canada
2015-05-11 05:40:54
2015-09-08 05:21:46
Worship At the (Queens) Park